This is me - Caro Lucas, your local contact in Canada!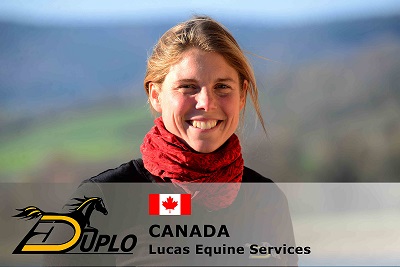 I am originally from Germany (near Hamelin) where I was self-employed as farrier and barefoot specialist for a over 13 years. In my daily work I had a lot to do with rehab horses. That's how I got to know the Duplo Composite Horseshoe - a product that really helped me and my clients' horses.
After having decided to move to Canada (where I had met my future husband during a holiday trip) I found out that Duplo Composite Horseshoes were not available there. Since I don't want to miss them for my daily work, I contacted the Duplo Team in Germany. That'ss how the idea of distributing the Duplo Shoes in Canada was born.
I am very happy to be a member of the Duplo Composite Horseshoe Team. Please don't hesitate to let me know if you need any further information on this unique product or if you need a version that is currently not available in our online shop yet.
I do not only want to offer great products but also great customer service. If you have any questions or concerns please contact me. Since I am also working as a barefoot trimmer and farrier it can be difficult to get ahold of me by phone. Your best chances of a phone call are from 7am to 08:30am as well as 7pm to 8:30pm. But if you leave a message or an e-mail I will get back to you.
Best regards,
Caro Lucas
Duplo Composite Horseshoes Canada
Phone: +1 (403) 682-7542
E-Mail: info@duplo-canada.com
Best regards,
Caro Lucas
If you send us an email and haven't heard back in the next two days, please leave us your phone number and check your junk folder - sometimes our emails end up there. Thanks!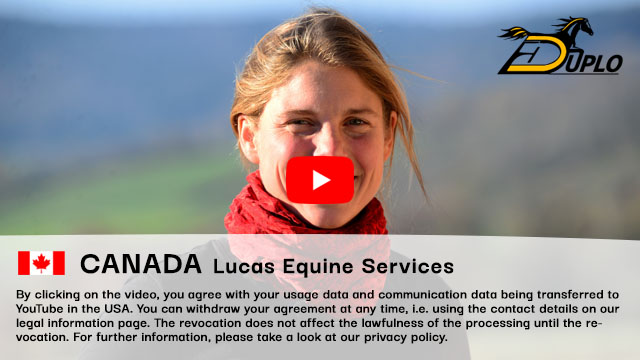 Shipments to the US
I am delighted to introduce our new distribution partner for Duplo composite horseshoes in the USA. To reduce transportation and delivery times, you now have the option to place orders directly in the USA. As a local point of contact, Kathi and Peter van der Gugten will provide you with expert and competent advice, leveraging their extensive experience. If you require specific guidance or further information, our team in Germany and I will continue to be available to assist you with any inquiries.
PAK Adventures LLC
Kathi van der Gugten
PO BOX 2744
Monument, Colorado 80132
+1 719 217 9591
https://equinehoofsolutions-usa.com/
E-Mail: info@equinehoofsolutions-usa.com
Latest Update: 2023-07-05